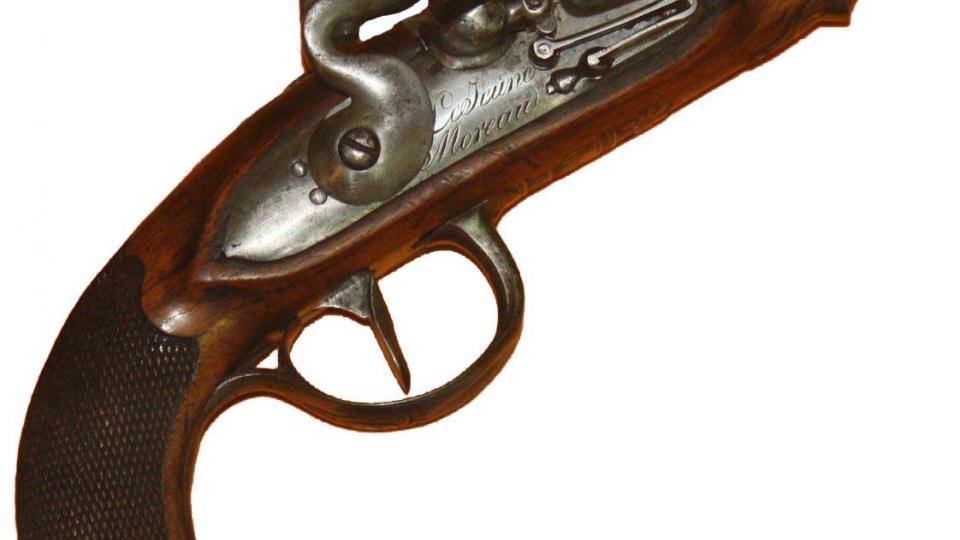 The Grétry Museum preserves a flintlock pistol. Details about how and when it was acquired are unknown. Nonetheless, the weapon is traditionally attributed to the famous Liège musician, André-Modeste Grétry.
André-Ernest-Modeste Grétry was born in the Outremeuse district in 1741. He came from a family of musician; his father, Pascal, was first violin in Saint-Martin, then in Saint-Denis. Grétry followed in his father's footsteps, before going to Rome, to Darchis College, to complete his training. He then moved to Paris and married Jeanne-Marie Grandon; together, they had three daughters. He only returned to Liège in 1776 and 1783.
His comic operas, which had both Germanic and Italian influences, were very successful in the French capital. Huron, Zemire and Azor or La caravane du Caire made him one of the inventors of operatic comedy.
Grétry died in 1813. After negotiations, his heart was returned to Liège in 1828, a cause for much celebration. In 1842, his heart was installed in a statue of his likeness in Place de l'Université, before finding its final resting place in Place du Théâtre in 1866.
In his memoirs – or essays on music – which were published in Paris in 1797, Grétry mentions, in a somewhat picturesque way, having received two pistols from his grandfather a few months before his departure for Rome:
"Here," he said, searching his pockets, "this is the gift I am giving you." - At the same time, he took out two pistols, which he presented to me: "Take care," he said, "they are loaded. Do not abuse them, my son, I implore you; but if someone attacks you..." - "Yes, yes, grandpa, I know how to defend myself." - "Come, see; suppose this tree is a thief who asks you for your purse or life. What would you do?" – "I would say to him: 'Sir, if you are in need, I can offer you some help, but my entire purse, in my situation, is my life itself.'" - "No," my grandfather replied, showing me the tree, "that's all you have that I want." - Bang… I shot the gun at the tree. - "He has a sword," exclaimed my grandfather... and I fired a second shot. My frightened grandmother ran to the window shouting: "In the name of God, what are you doing there?" - "I'm killing the thieves, grandma," I replied. - Her husband put the two pistols in my pocket, and we went home."
However, this cannot be the pistol that is preserved at the Grétry Museum. This one has a round plate with no decoration, with the inscription in English: Lejeune Moreau. The convex dog, which has the typical appearance of a swan's neck, has a pear-shaped screw. There are three markings under the barrel: ELG over a star, in an indistinct oval that looks like the letter K inside a square. This is a typical weapon from the First French Empire. The oval mark of the barrel represents the official acceptance mark from the Liège test. This was in use from 18 May 1811 to 14 September 1813, that is to say, eleven days before the death of Grétry. The signature Lejeune Moreau definitely belongs to a retailer who was established in Liège. Although Grétry did not return to Liège during this period, it is very possible that he could have received this pistol as a gift. He was hugely celebrated at this time. In 1811, his hometown dedicated a square to him in the district of Outremeuse.