A "chalice" with the coat of arms of Paris and Liege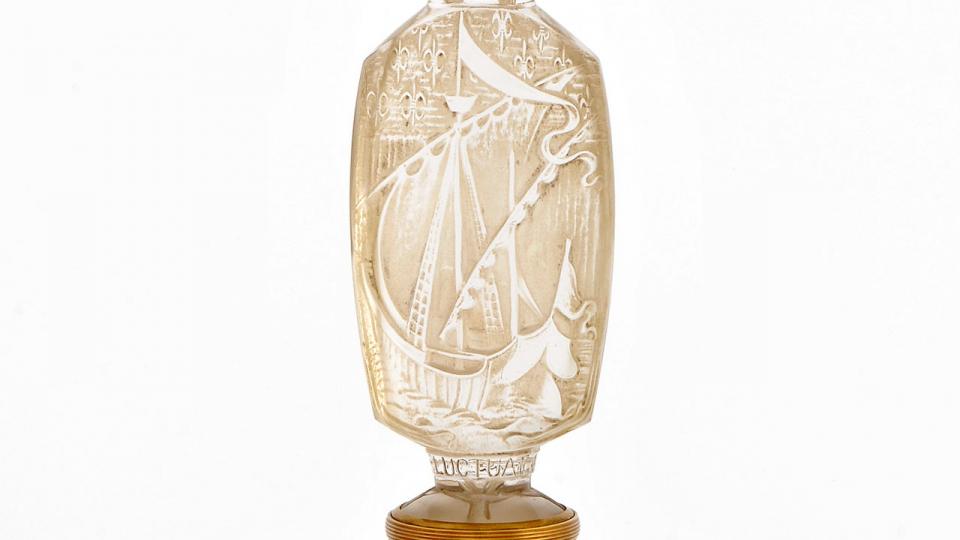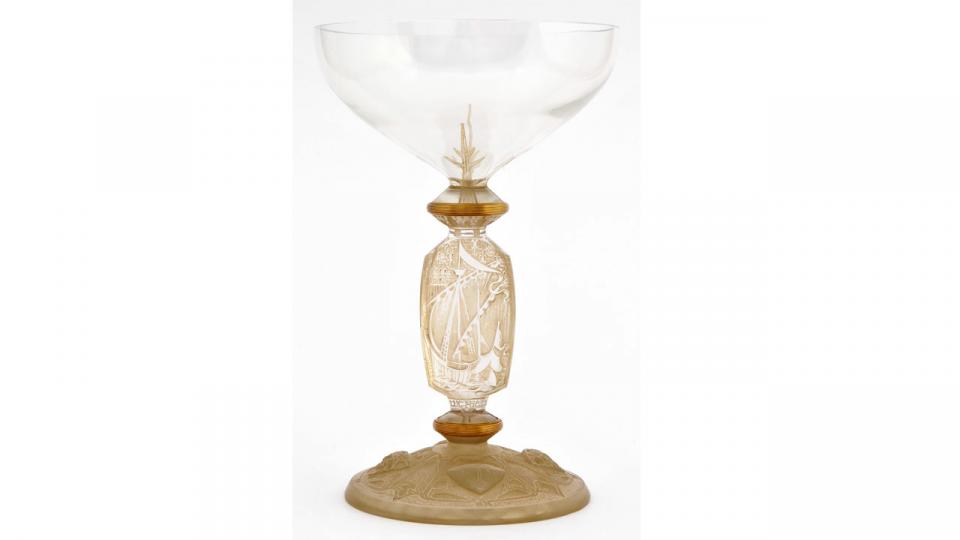 A "chalice" with the

coat of arms

of Paris and Liege
Before embarking on the industrial production of moulded pressed translucent glass, René Lalique (1860-1945) created in 1914, at the request of the City of Paris, 20 prestigious cup models known as the "Coupe Haute Ville de Paris".
From 2 to 6 June 1914, the City of Paris invited the mayors with whom it maintained privileged relations (London, Westminster, St Petersburg, Moscow, Madrid, Granada, Toledo, The Hague, Amsterdam, Liège and Ghent). As a souvenir of their stay, each of them received a cup bearing the coat of arms of Paris and of the city they manage.
The model on display was offered to Gustave Kleyer, Mayor of Liège (from 1900 to 1921), who was invited to the "City of Light" on 6 June 1914. The original leg is made of a thick oblong glass plate, enclosed between two biconical knobs encircled with gilded metal. It is engraved with the coat of arms of Paris with the representation of fleurs-de-lys, a nef - a great ship with sails - and on the lower ring is inscribed the motto of the city "Fluctuat nec mergitur" ("It is beaten by the waves, but does not sink"). On the foot, stylised ornaments embrace escutcheons with the heads of characters and the arms of the City of Liège, with the inscriptions: "Lalique" and "6 June 1914".
During the Great War, Gustave Kleyer protected his citizens during the German occupation. On 24 July 1919, he received the Legion of Honour, awarded to Liège for its heroic resistance to the German imperial army, from the hands of the President of the French Republic, Raymond Poincaré. On 30 May of the same year, the mayor donated the precious object to the Curtius Museum.
Jean-Paul Philippart,
Curator of the Glass Department
Photo caption : Calice René Lalique, Paris , 1914 - Copyright Ville de Liège